Clinton announces 2016 White House bid, asks to be 'champion' of America's … – Fox News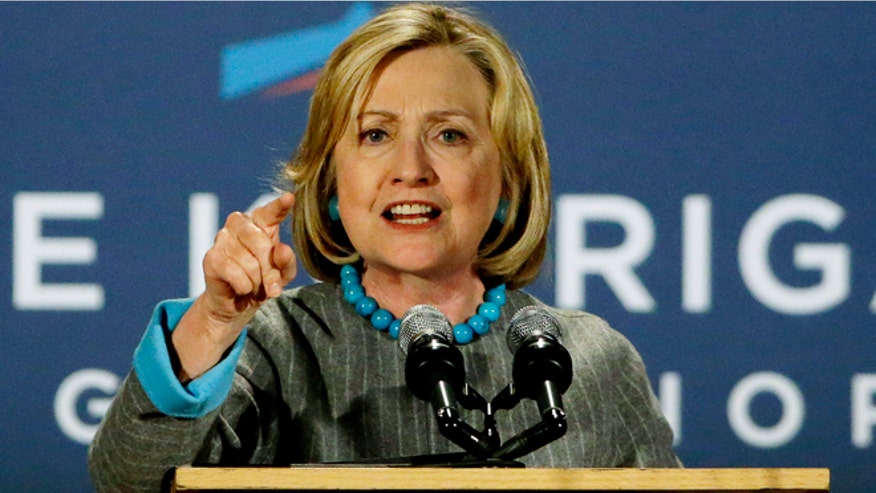 Former Secretary of State Hillary Clinton on Sunday officially announced her 2016 presidential campaign, ending months of speculation and anticipation about whether she would seek the Democratic nomination.
Clinton made the announcement in a YouTube video in which she says "Everybody needs a champion. And I want to be that champion."
The roughly two-minute video begins by showing a cross-section of Americans working to get ahead before Clinton says: "I'm doing something, too. I'm running for president."
The 2016 White House winner will assuredly need to appeal to middle-class Americans and win their votes. And Clinton wasted little time making her pitch. "Americans have fought back from tough economic times," she say in the video. "But the deck is still stacked in favor of those at the top."
Clinton released a similar, more condensed message on Twitter. 
The former first lady is seeking the presidency for a second time, after losing the party nomination to then-Sen. Barack Obama in 2008.
The 67-year-old Clinton has been the clear Democratic front-runner since speculation started last year about her potential candidacy, and her announcement makes her the only Democrat so far to officially start a 2016 White House campaign. A victory in 2016 would make Clinton the United States' first female president.
Clinton in 2000 won a U.S. Senate seat in New York, and in 2009 was appointed secretary of state, serving four years.
On Saturday, the group "We Are Hillary for America" circulated a memo to supporters that laid out a set of guiding principles — including to "give every family, every small business and every American a path to lasting prosperity by electing Hillary Clinton the next president of the United States."
Clinton now heads this week to key, early-voting states, including Iowa and New Hampshire.
She has signaled that she intends to make a major push in the Iowa caucuses, won by Obama in 2008. Her team has hired a former top aide to Agriculture Secretary Tom Vilsack to lead her Iowa campaign.
Her ties to New Hampshire are much stronger. State Democrats remember Bill Clinton's surprising second-place finish in the 1992 primary that helped him overcome charges of draft dodging and womanizing. Hillary Clinton surprised Obama by winning the 2008 New Hampshire primary.
Clinton has faced sharp criticism in recent weeks, after news reports that as secretary of state she used a private server and emails for official business, then made available only about half of the roughly 60,000 messages, permanently deleting those she considered personal.    
Still, a Fox News poll released March 26 shows Clinton with support from 49 percent of early voters, numbers similar to those in other polls for roughly the past five months.
As first lady to President Bill Clinton during the 1990s, she was a driving figure in a failed health care overhaul and lived through multiple ethics investigations and her husband's impeachment.
Clinton graduated from Wellesley College and Yale Law School.
In Arkansas, she was a lawyer at a top firm while Bill Clinton was governor. She advised her husband after he won the White House in 1992. In the Senate, she struck a bipartisan tone at times. Her Senate vote for the 2002 Iraq invasion became a point of contention in 2008; Obama had spoken out against the "dumb war." At the State Department, she was a hawkish member of Obama's national security team. She helped set the foundation for nuclear talks with Iran.
Clinton is the daughter of a small-business owner and homemaker, and grew up in suburban Chicago. As a college senior, Clinton delivered a 1969 commencement speech that earned national attention. The Clintons met at Yale. After working as a child advocate, Clinton followed her future husband back to Arkansas, where he launched his political career. The couple's 35-year-old daughter, Chelsea Clinton, gave birth to her first child, Charlotte, in September.
A 1995 address in Beijing and her final campaign event in 2008 are signature moments. As first lady, Clinton declared in a speech at a U.N. conference on women that "human rights are women's rights and women's rights are human rights."
The speech challenged human rights abuses of women and helped set the tone for Clinton's work years later in the State Department.
Her critics remember her for blaming her husband's scandals on a "vast right-wing conspiracy."
Clinton wrote "Hard Choices," about her time as secretary of state, and promoted the book around the country in 2014. The book generated mediocre sales and Clinton stumbled at times during the book tour, saying in one interview that she and her husband were "dead broke" when they left the White House.
While they faced large legal bills from the Whitewater investigation, the couple made millions after Bill Clinton's presidency; the comments were considered tone-deaf. Clinton already was a publishing powerhouse at that point.
During her husband's presidency, she released "It Takes a Village" in 1996, a book that discussed her work in child advocacy and steps to help children become productive adults.
The Associated Press contributed to this report.